Descriptions of the sessions and the session leaders on Lanyrd:
Printable PDF grid is below. If details change, the latest version will be linked to on this page.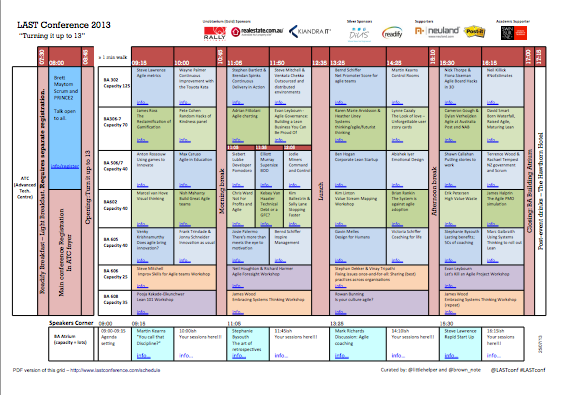 Last updated 31 July 17:50
About Lanyrd
We are using Lanyrd for session and session leader details. Lanyrd is a "social conference directory" that you can use to track sessions and session leaders (speakers), and find follow up coverage. Here's what it looked like for the 2012 Google I/O conference, and for LAST Conference 2012.
They provide an HTML5 mobile version for various mobile devices (including Android), and iOS apps  for iPhones and iPads. They even allows for offline access…and it's free.
Easy sign in (via username/password, Twitter or LinkedIn) will also allow you to flag interesting sessions, and flag people you want to meet. 
Don't worry if you don't have a Twitter or LinkedIn account, or don't want to sign up, you can still use Lanyrd to view event info.